Trash Removal Services in Dallas, TX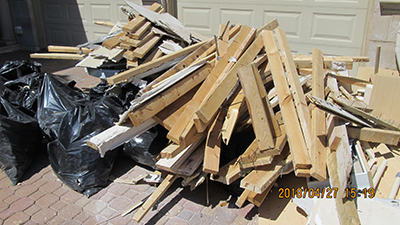 Anytime Trash Removal is Dallas' trusted source for trash pickup, rubbish removal, junk hauling and more. We're available 24/7 and are committed to offering outstanding and efficient services at affordable rates. Free quotes are available, so give us a call today!
Your Junk Removal Service
Maybe you recently purchased some new furniture and are finally ready to junk your old pieces. Perhaps you remodeled your kitchen and have debris from old cabinets and fixtures that need to be disposed of, but you don't know where to take it. Or maybe you're in the process of emptying years of clutter out of an attic or basement in preparation for selling a loved one's home. One way or another, we've all been there: we've had a need for junk removal, but didn't know where to turn.
Fortunately, Anytime Trash Removal is here to help. Since 1981, our team has been providing 24/7 junk removal service in Dallas, Irving, Plano, Garland, and Grapevine, TX, and the surrounding areas, offering our services to residential and commercial customers alike for jobs of all sizes. You call us, we'll come pick up your junk—it's as simple as that. With our trash removal service, we pride ourselves on the efficiency at which we operate and on our ability to take care of most jobs on a same-day schedule. Whether you're wrapping up a big construction project, have a roomful of old furniture you no longer need or have a junk car taking up space on your property, contact us, and we'll take it off your hands. Here are just a few more reasons to call Anytime Trash Removal:
We provide removal of junk, trash, rubbish, debris, garage clean out and more.
We're a local trash service that has been in Dallas, TX since 1981.
We're available 24/7, day and night to remove your trash.
Our service is efficient and prompt.
We offer our services at competitive prices, and are happy to provide free estimates.